Regular price
$299.99 USD
Regular price
$369.99 USD
Sale price
$299.99 USD
Unit price
per
Sale
Sold out
Our telescope is best seller on Amazon.

And we are the original factory, we can provide our customer better price.
Gskyer Infinity have over 20 years Optical history,Use of Germany's advanced technology, for different groups of people from different telescopes for science, astronomy, exploration, and tourism, etc. Gskyer's value priced Powerseeker 90600AZ is an affordable entry high level telescope with some nice extras like a correct image prism and "The Sky" astronomy.
This 90x600mm refractor telescope can be a good observation of celestial bodies and terrestrial objects - best for viewing Lunar and Planetary. Featuring all coated glass optical components,our telescope provides clean, crisp views.
Learn More
Share
View full details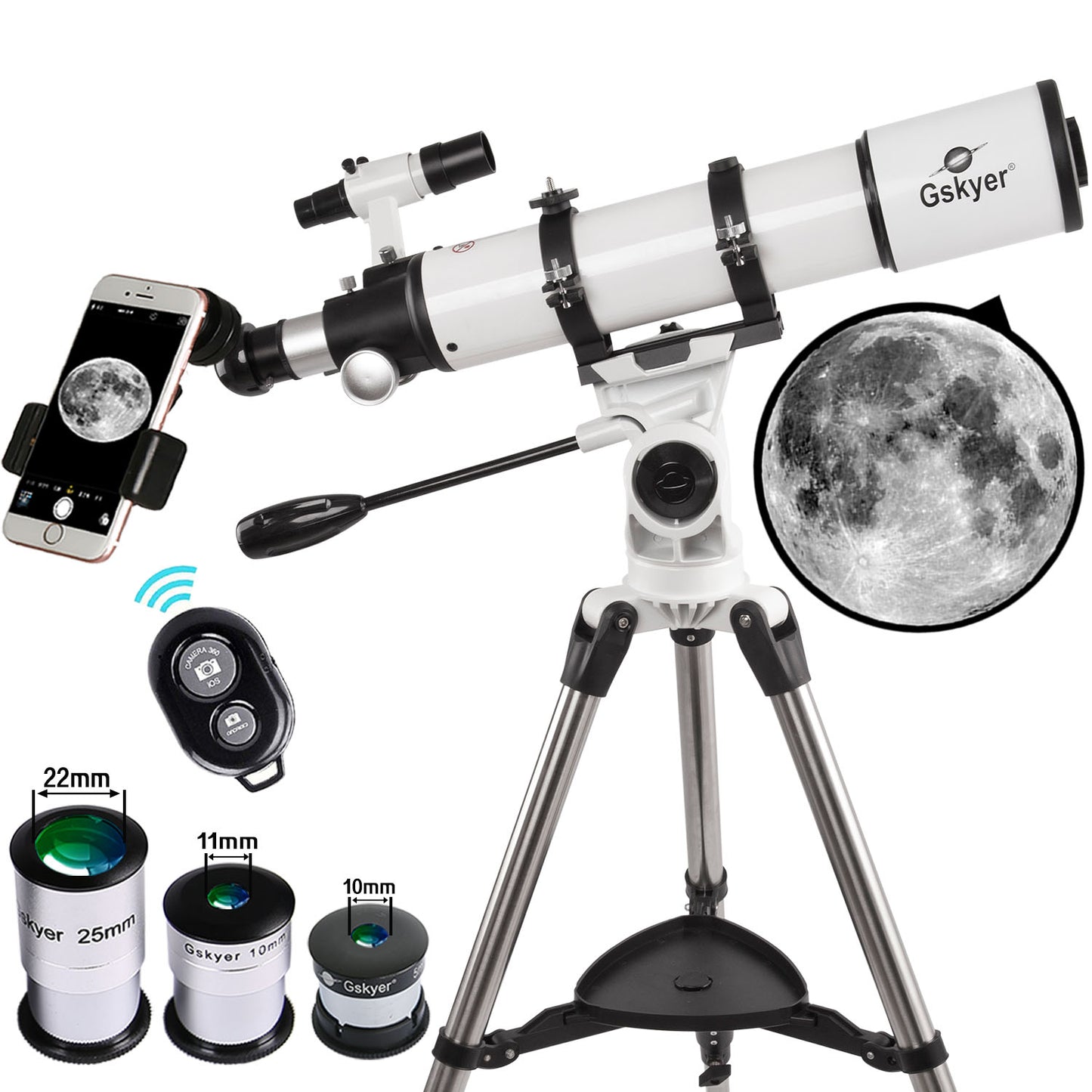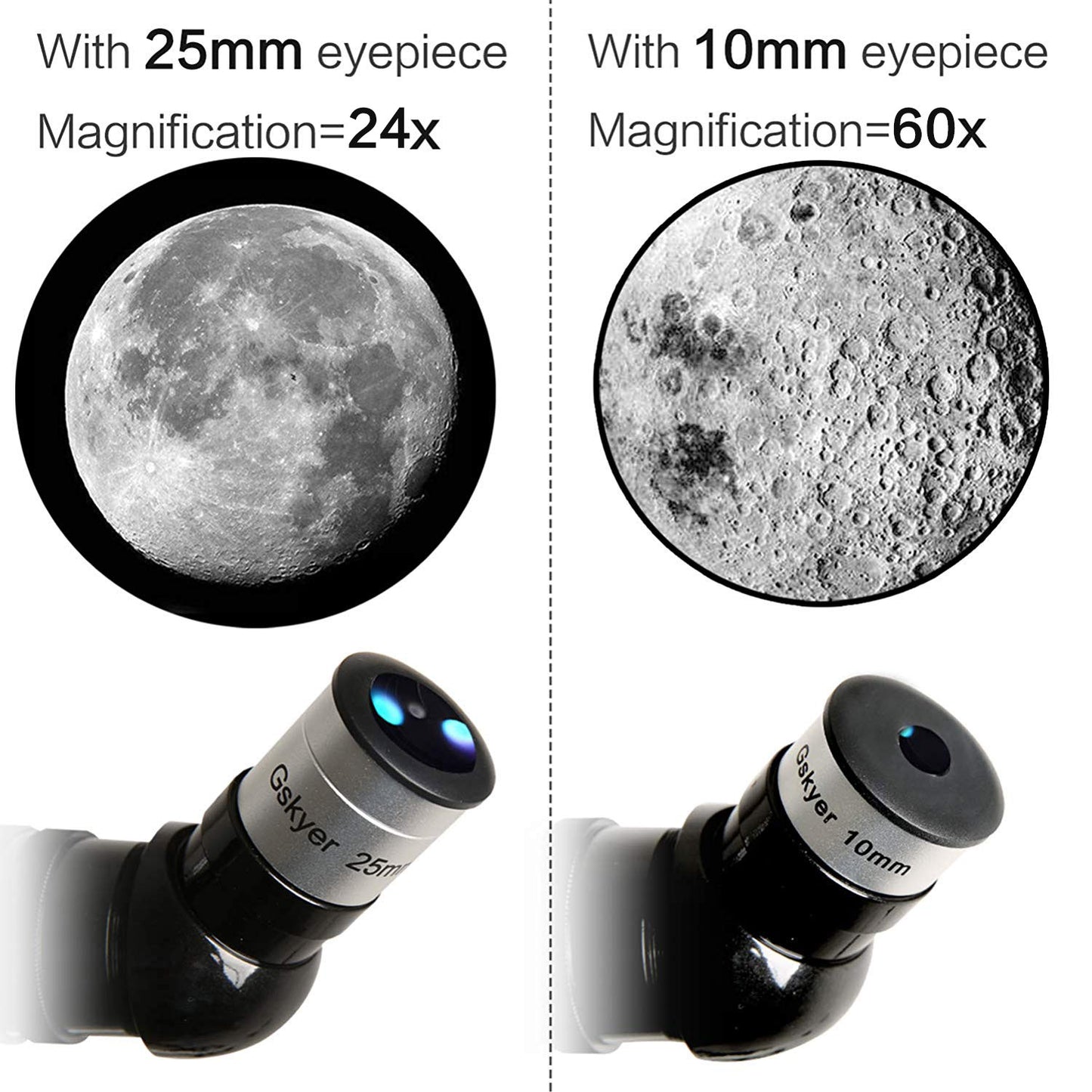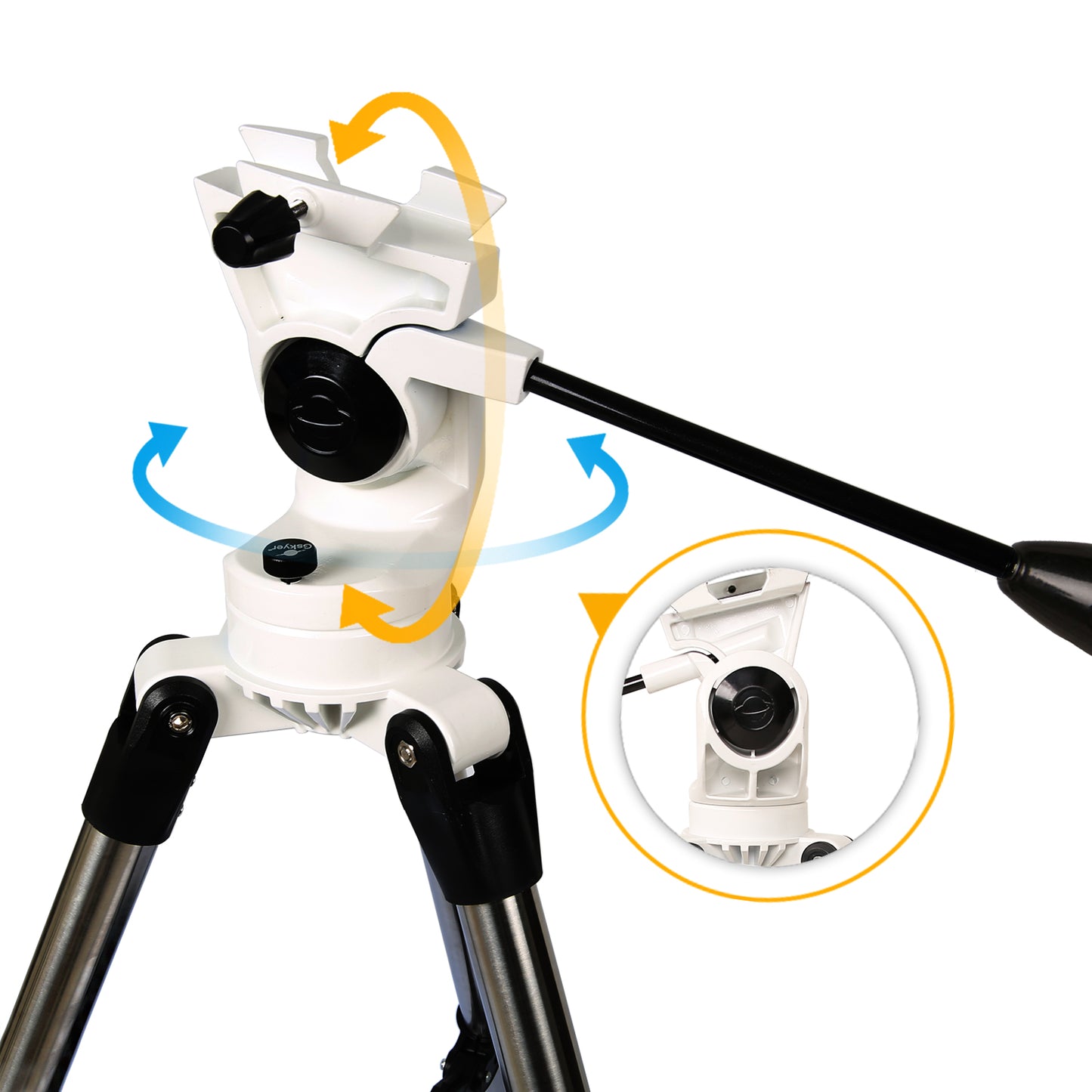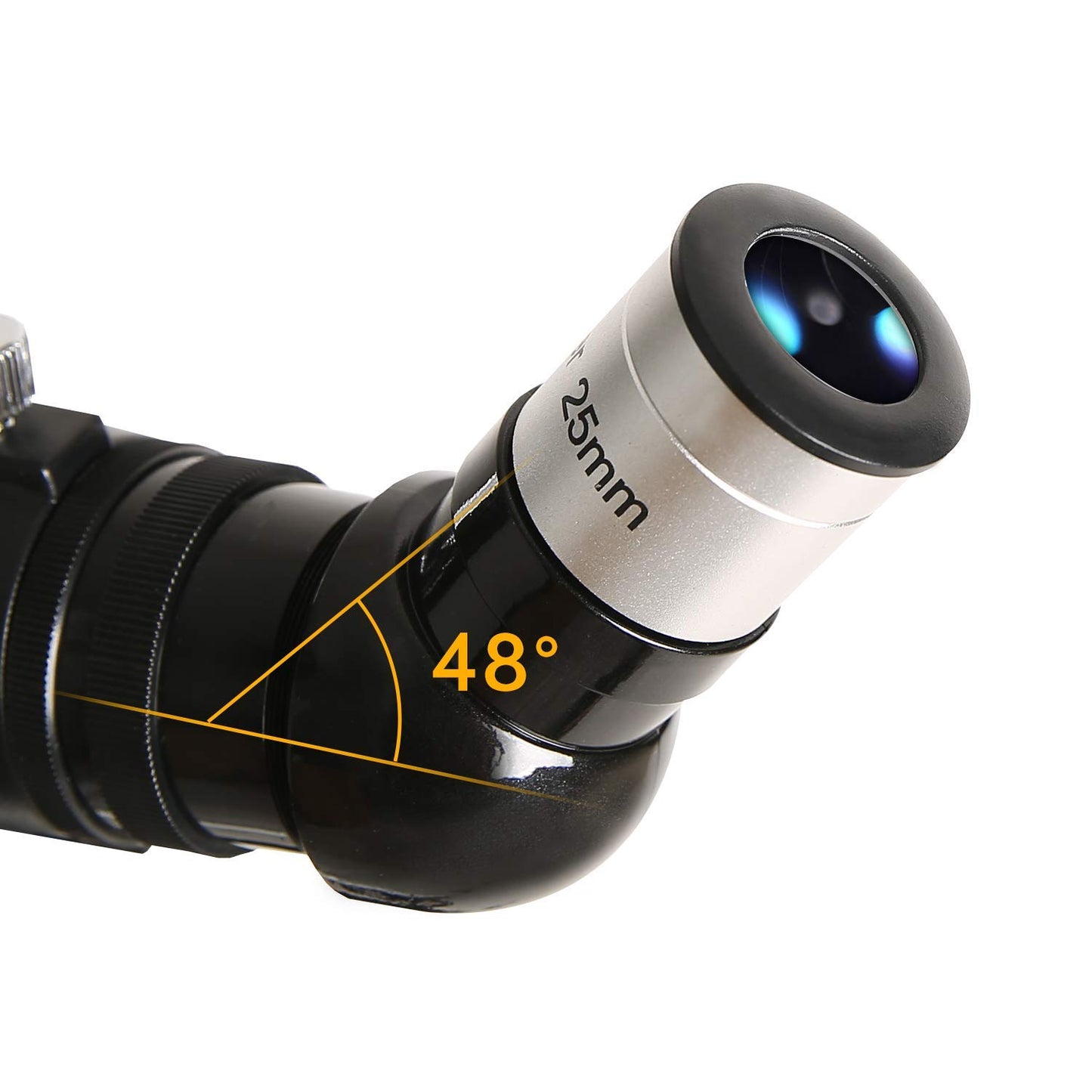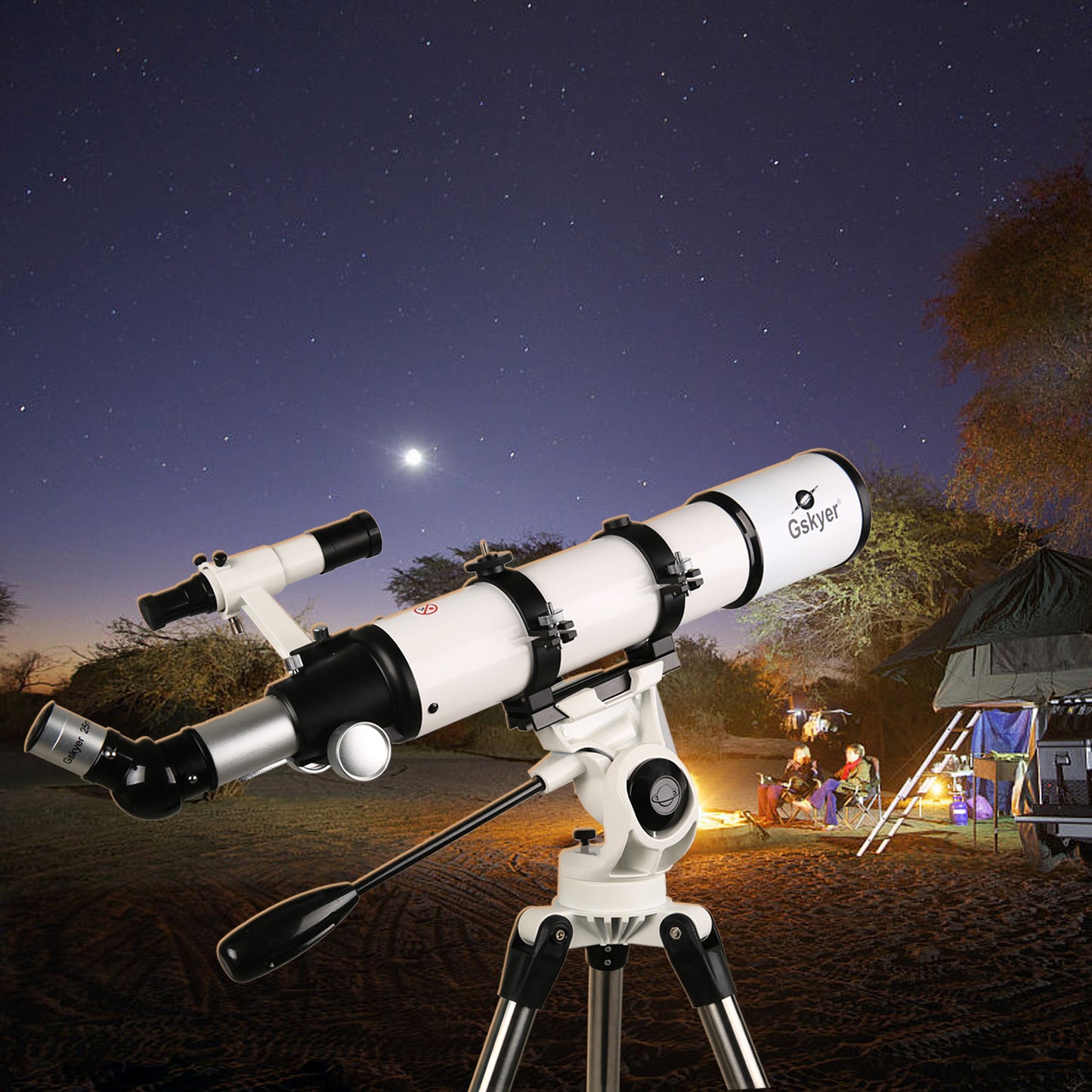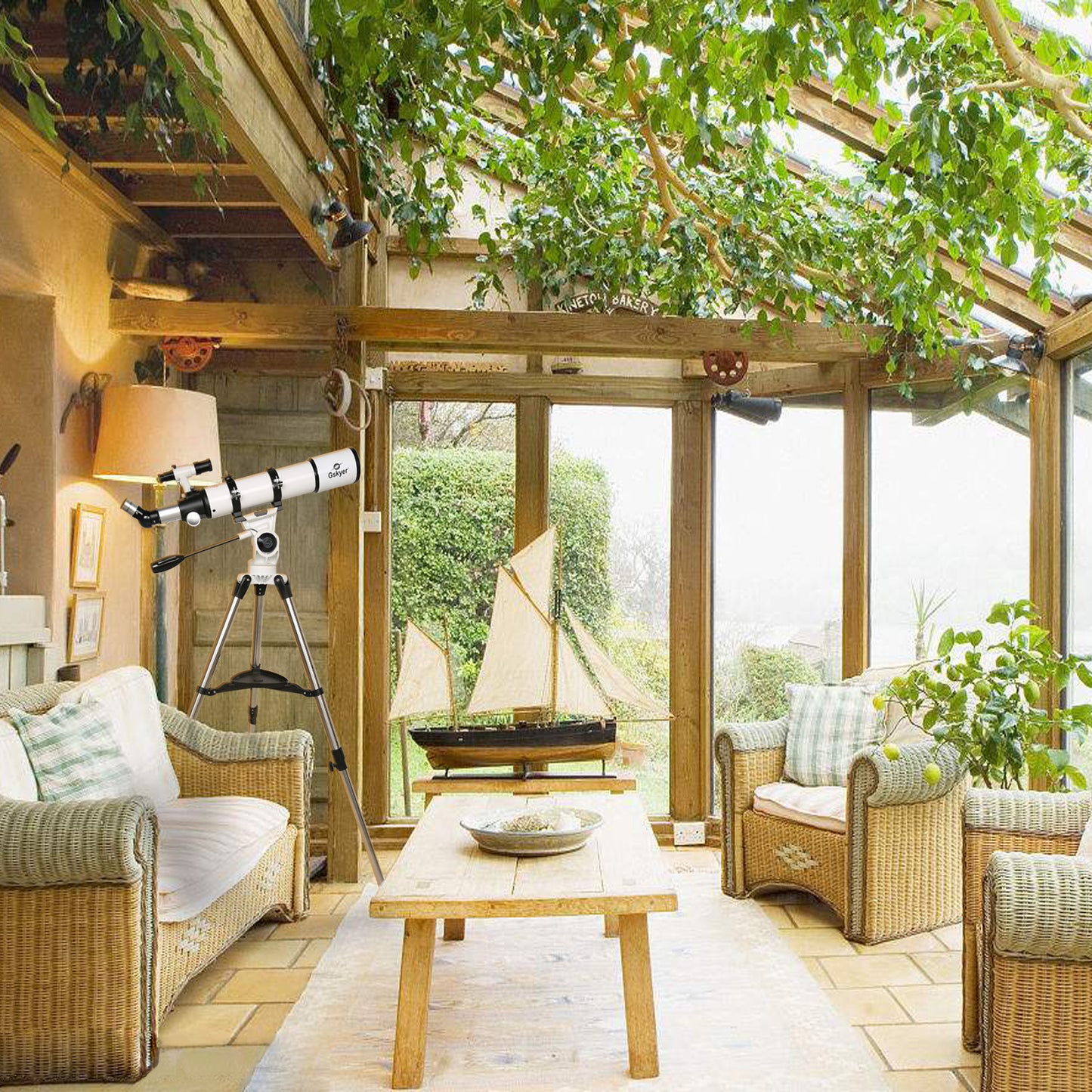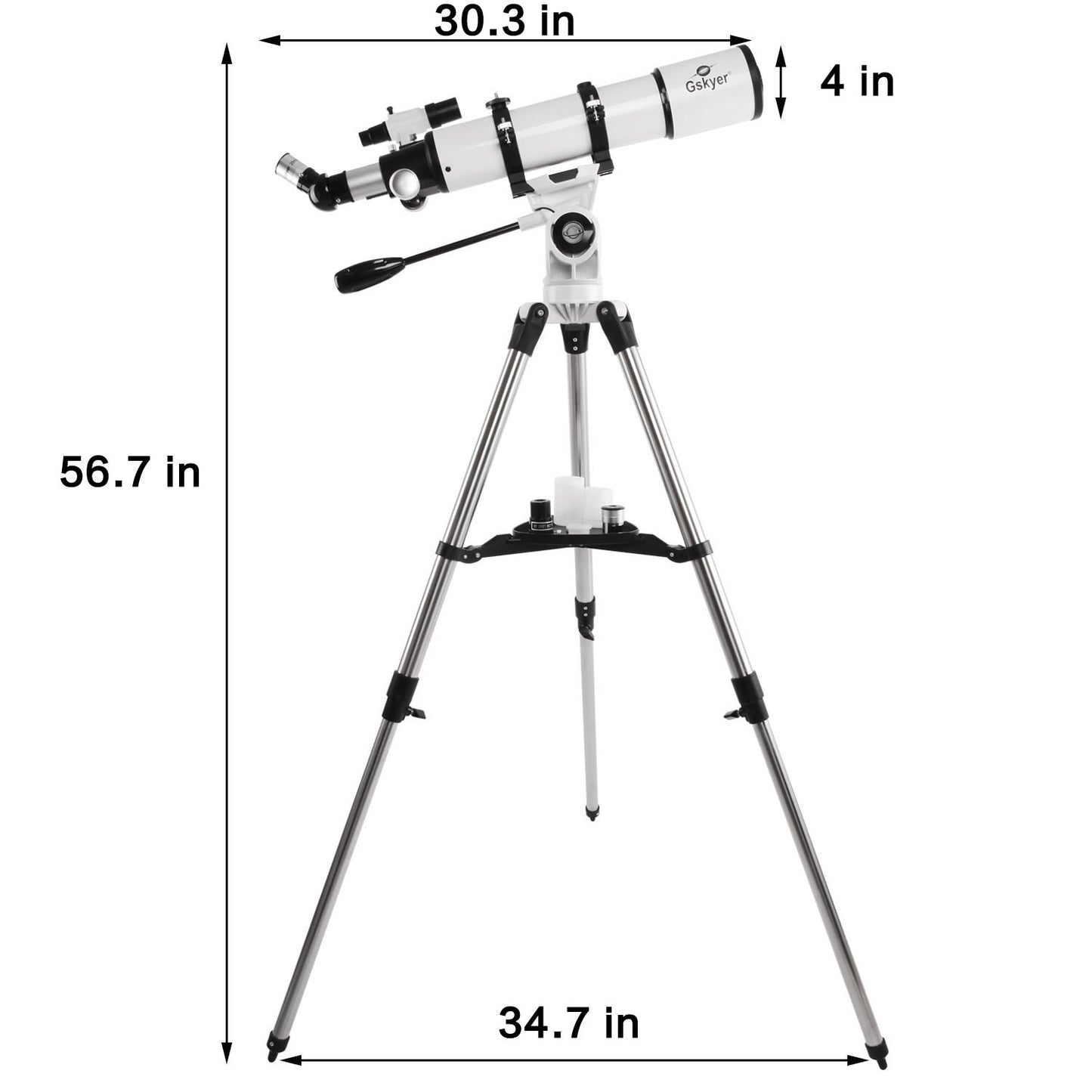 Perfect for a starter scope
This telescope was very easy to assemble, I barely needed the instructions, though the instructions were clear and precise. I've only taken it outside twice because of weather. But let me tell you, this thing is great!! I use a star viewer app to help line things up. I haven't used the phone mount for pictures yet. I bought this for myself for my birthday and was over the moon (pun intended) when it arrived. To the point that I put it together in my parents kitchen at 11:30pm. Assembly took approx 20 minutes. If you're just getting into star viewing I definitely suggest this scope. If you're limited on space but want a decent product, this is your 'guy'.
An amazing telescope for novice stargazers
After my 12-year-old son received a completely useless "toy" telescope for a birthday present, we decided to research and find a replacement that he could actually use. He is a novice with a huge interest in stargazing, so we wanted to find something that wasn't too expensive, but that would actually allow him to view objects in space. After reading countless 5-star reviews on the Gsyker Telescope, we gave it a shot, and we are so happy. Assembly was extremely simple, and within 30 minutes, we were outside looking at the moon. The build quality is very good - it has weight behind it and is stable when viewing. If I had one minor gripe, it would be that there is no fine control on the tripod, so when using the max magnification tubes, it can be a little tough to center on whatever you are trying to view, but because the tripod is so stable, this is not completely necessary. Overall, we are very happy with this telescope and will get many years of use out of it - the only thing holding us back right now is our terrible winter weather.
I would highly recommend this telescope to anyone looking to get into stargazing who doesn't have a huge budget - you won't be disappointed!
Good start at staring st space, but sketchy position locking can make it frustrating.
I got some great pics of the moon with this. Anything past that gets a bit difficult. Aligning the spotter scope is a bit annoying, it also has some "spring" on the mount making need adjustment fairly often.
The telescope is pretty good but keep it away from dust/humidity. If it is a cool night, it can start accumulating quickly on the lenses, reasonable enough to clean, but even being sealed some of the inner lenses got "spotty".
The biggest setback to regular usage is the "drop" after locking position. Its a small amount, but when aligning at something that far away, its more then enough to force you to gamble on the drop positioning. You can quickly lose a target you just locked on due to the drop and readjusting. It is easy enough to keep readjusting on something close like the moon, but farther or smaller targets can be very discouraging.
Great for my 7 year old!
I Purchased for my 7 year old's first telescope. This is a good balance between entry-level cost-effectiveness and legit quality lensing. I found it relatively simple to assemble right out of the box.
It's super great for sighting the moon and Mars. Smaller stars are just white dots. You can see excellent detail in the moon with this telescope.
Collapsible content
SPECIFICATION

Aperture: 90mm(3.5in)
Focal Length: 600mm(23.62in)
Focal Ratio: F6.
Eyepiece1: 25mm(0.98in)
Magnification1: 24X
Eyepiece2: 10mm(0.39in)
Magnification2: 60X
Eyepiece3: 5mm(0.196n)
Magnification3: 120X
Max Magnification: 36
Finderscope: 6*3
Zenith Mirrors: 48°Erecting BAK7 prism
Mount: AZ Altazimuth Mount
Optical coating: Multi Antireflection Green Film
Barlow lens: 3X
Resolution: ≤2.
Angular Field of View: 1°36"
Tuble connection: Hook Dovetail Plate
Tripod: 1.27inch stainless steel Tripod
ABOUT ITEM

【High Quality Optics】600mm(f/6.7) focal length and 90mm aperture, fully coated optics glass lens with high transmission coatings creates stunning images and protect your eyes.
【High Magnification】Come with three replaceable eyepieces(24X, 60X,120X) and one 3x Barlow lens. 3x Barlow lens trebles the magnifying power of each eyepiece.
【Adjustable Tripod】This telescope allows for many different viewing positions with a adjustable aluminum tripod. The height of aluminum tripod can be adjusted from about 31.5-inch to 49-inch.
【Easy to Operate】No tools are required for reflecting telescope even for the novice, quick and easy to focus.
WARM TIPS

●If it shows a blurred picture, please adjust focus using focus wheel.

●When observing an outdoor target with an astronomical telescope indoors, do not close the window to avoid the deformation of the image caused by the reflection of the window glass.

●Use a telescope outdoors, please wait for the temperature of the product is the same as the outdoor temperature, the performance will be better.

●Avoid accidentally taking the telescope into a larger temperature difference environment because the moisture in the air will condense on the objective.

●NEVER aim your telescope at the sun or even close to the sun!

Your satisfaction and positive feedback is very important to us if you are satisfied with our items and services. If you have any problems with our items or services, please feel free to contact us first before you leave feedback. We will do our best to solve your any problems and provide you the best customer services.
SHIPPING

Delivery time: 1-3 days in the US

Return policy: Eligible for Return, Refund or Replacement within 30 days of receipt.