Regular price
$119.99 USD
Regular price
Sale price
$119.99 USD
Unit price
per
Sale
Sold out
Our telescope is best seller on Amazon.

And we are the original factory, we can provide our customer better price.
This Gskyer Monocular Pirate Telescopes are made with high quality BAK4 Prism Glass and FMC (Fully Multi-Coating) Lens, It focuses and magnifies due to the excellent optics for real viewing.
It is a great spyglass for kids and a good pirate telescope, it is designed for outdoor enthusiasts, great ideal for bird watching,rock climbing,hiking, hunting, wildlife and scenery, and other outdoor activities.
High powered monocular telescope brings the world more closer and provides high-resolution images with extremely accurate color reproduction. It allows you to see the goals of the distant world in more realistic detail.
Share
View full details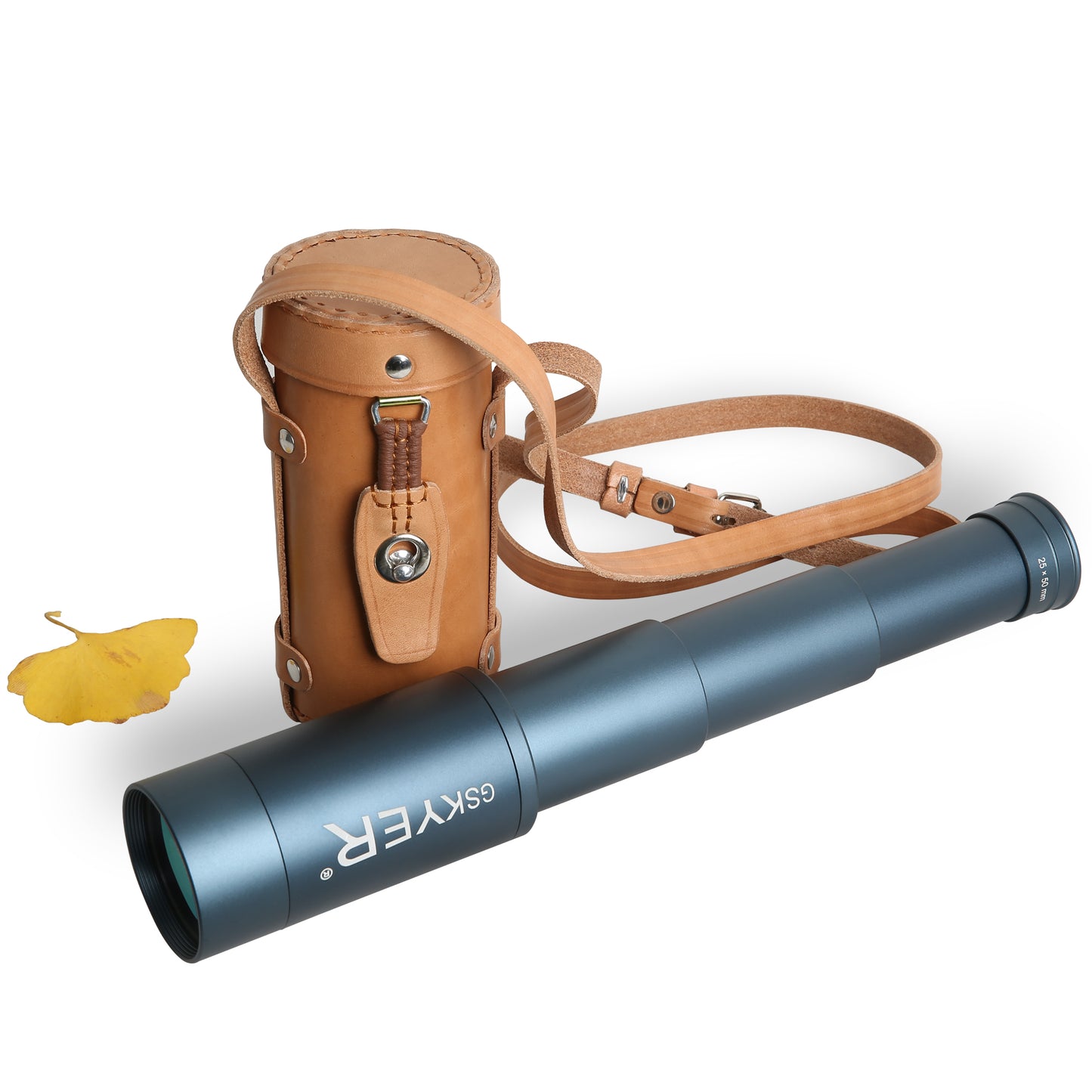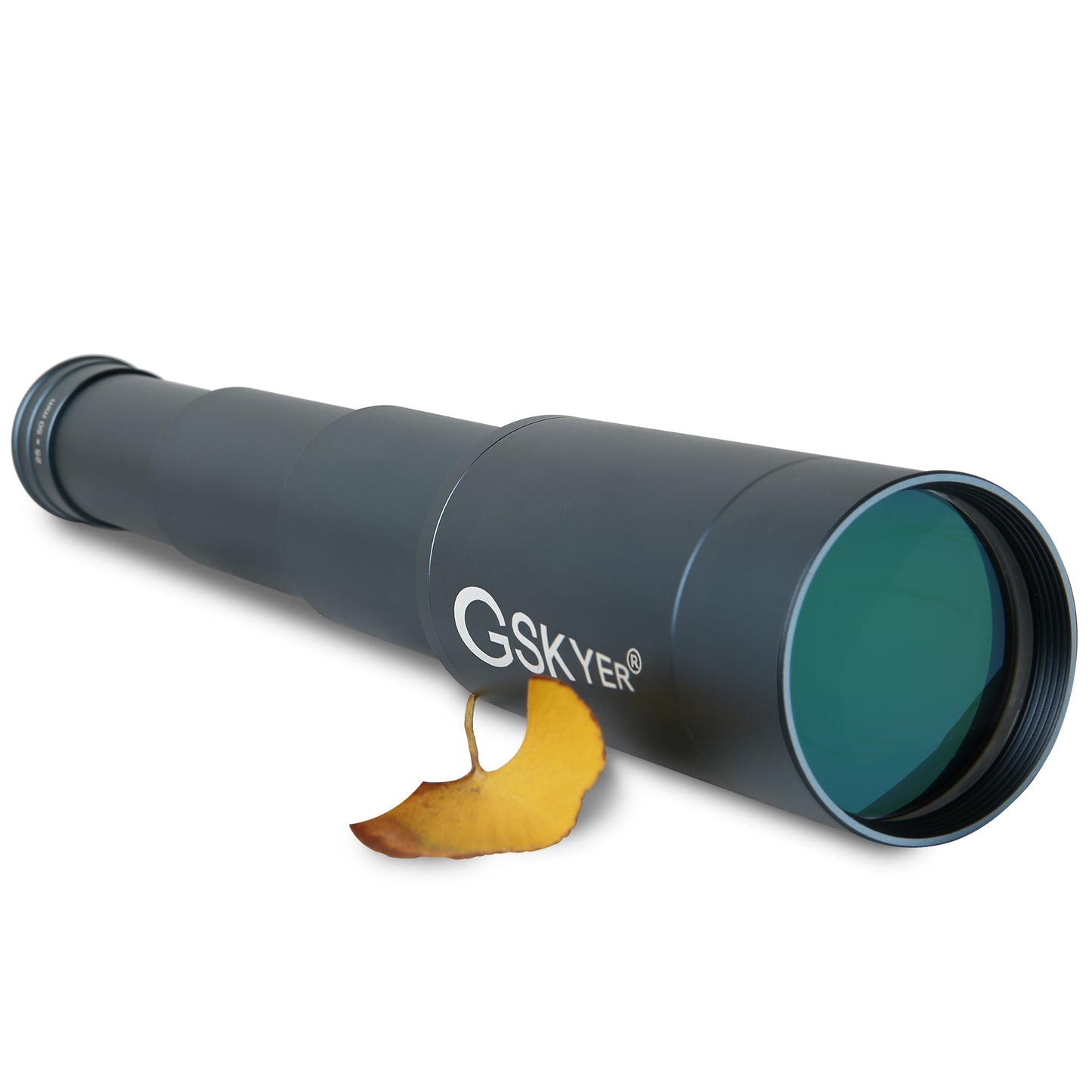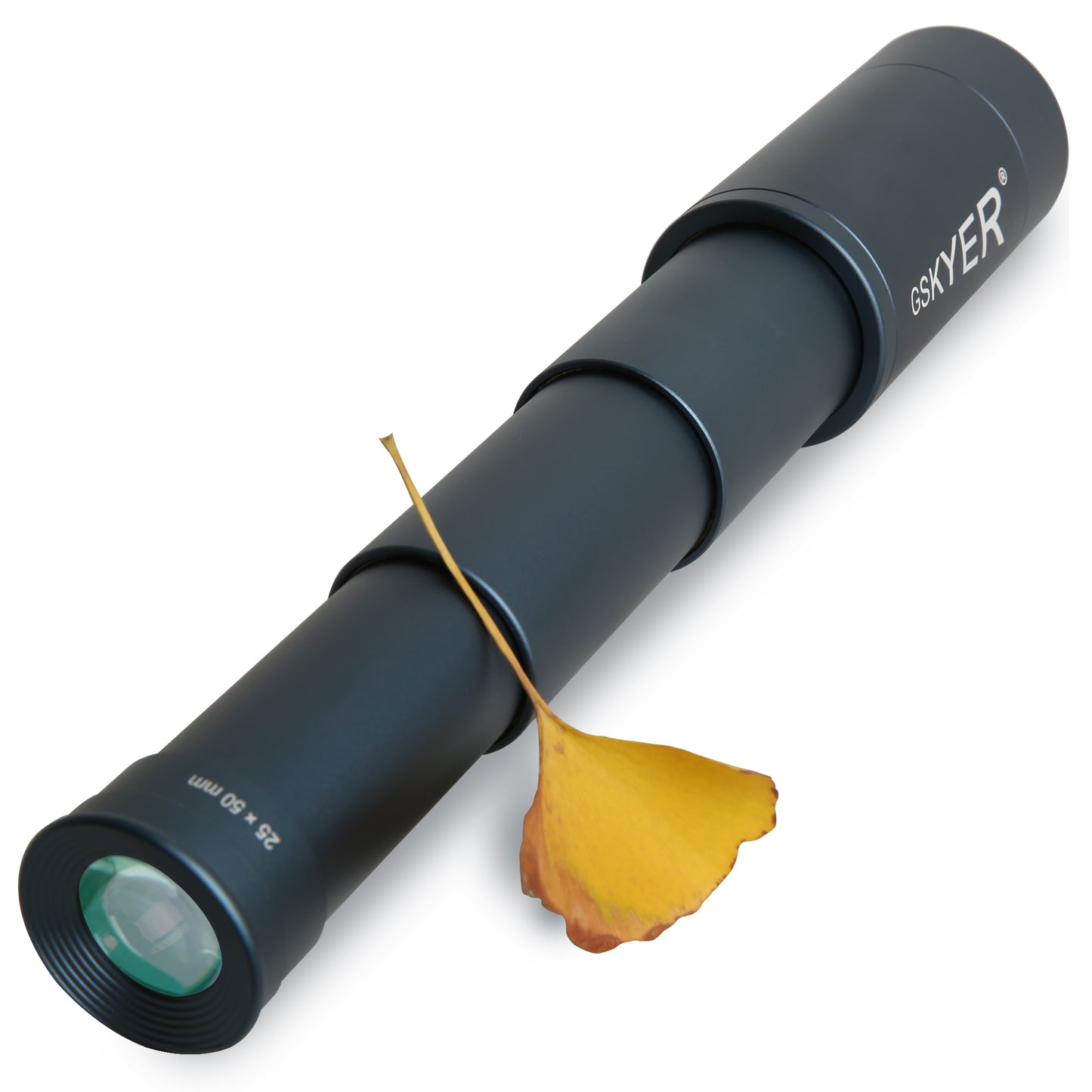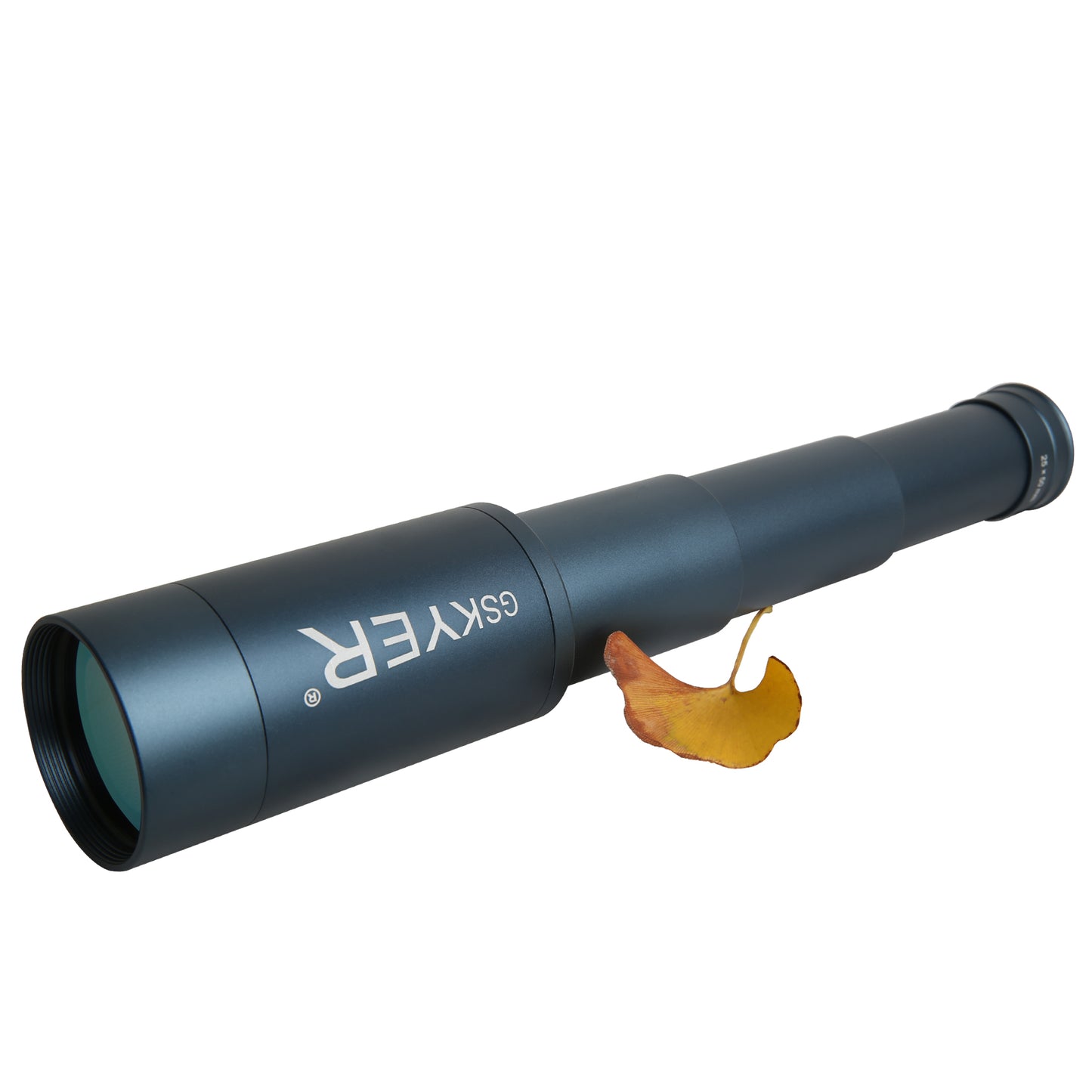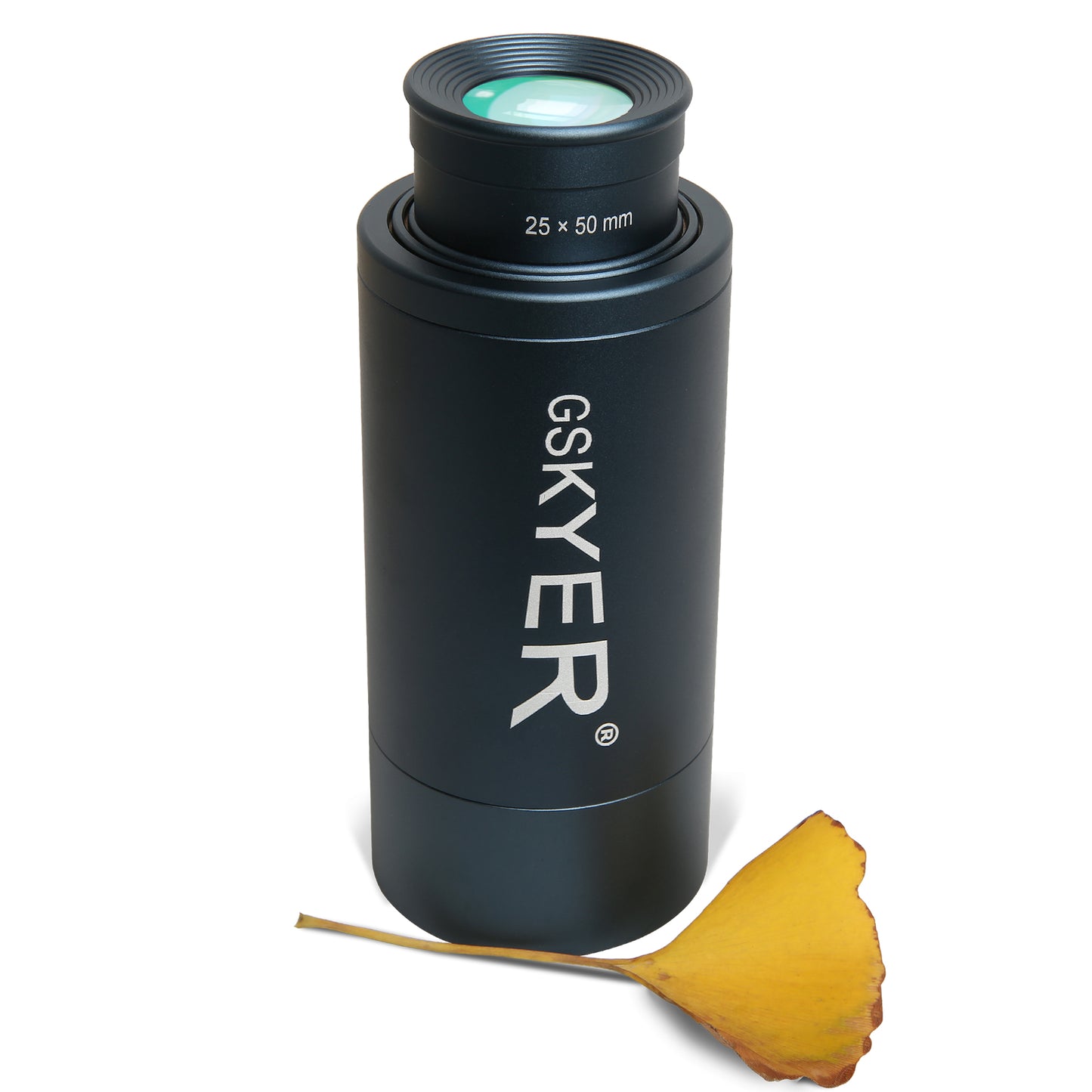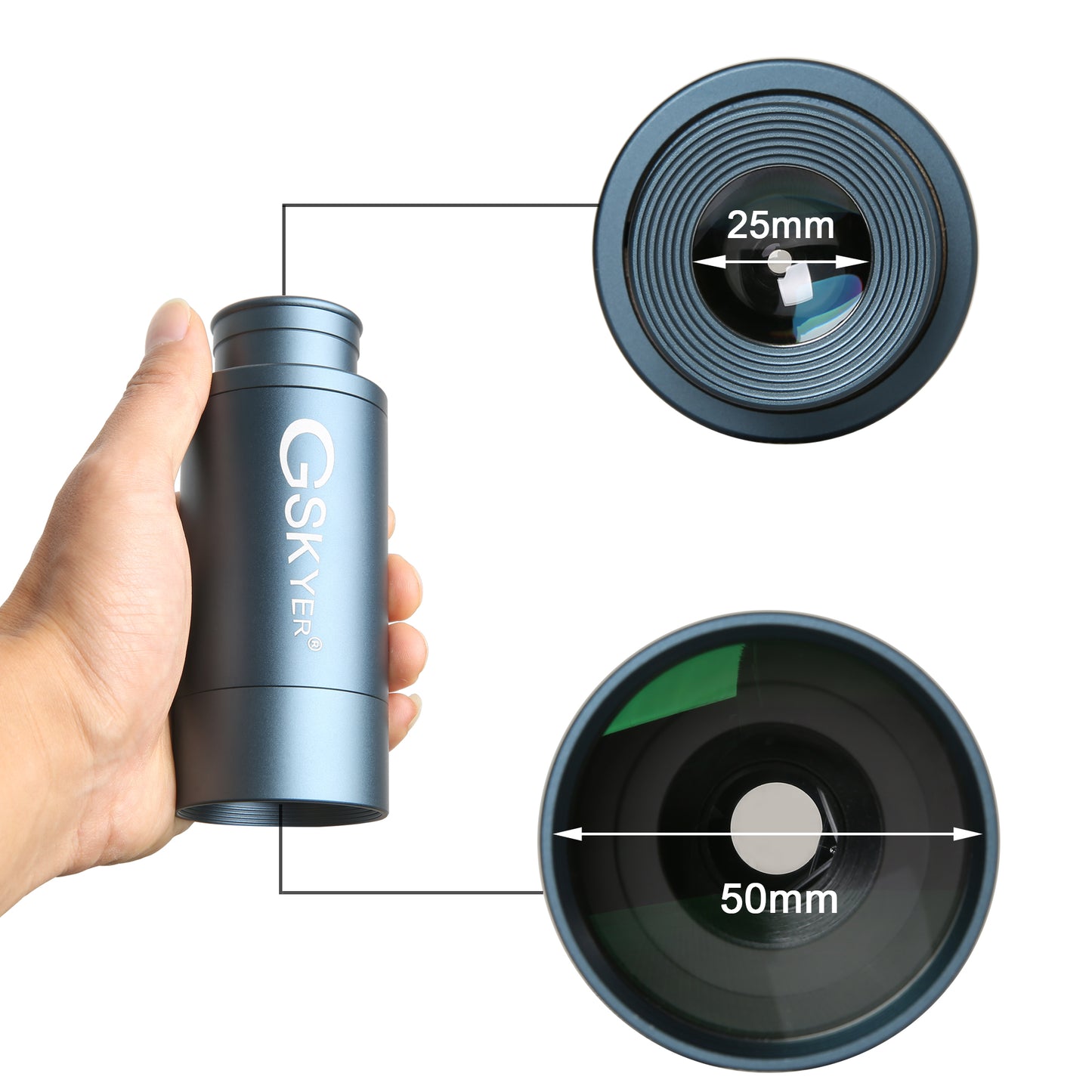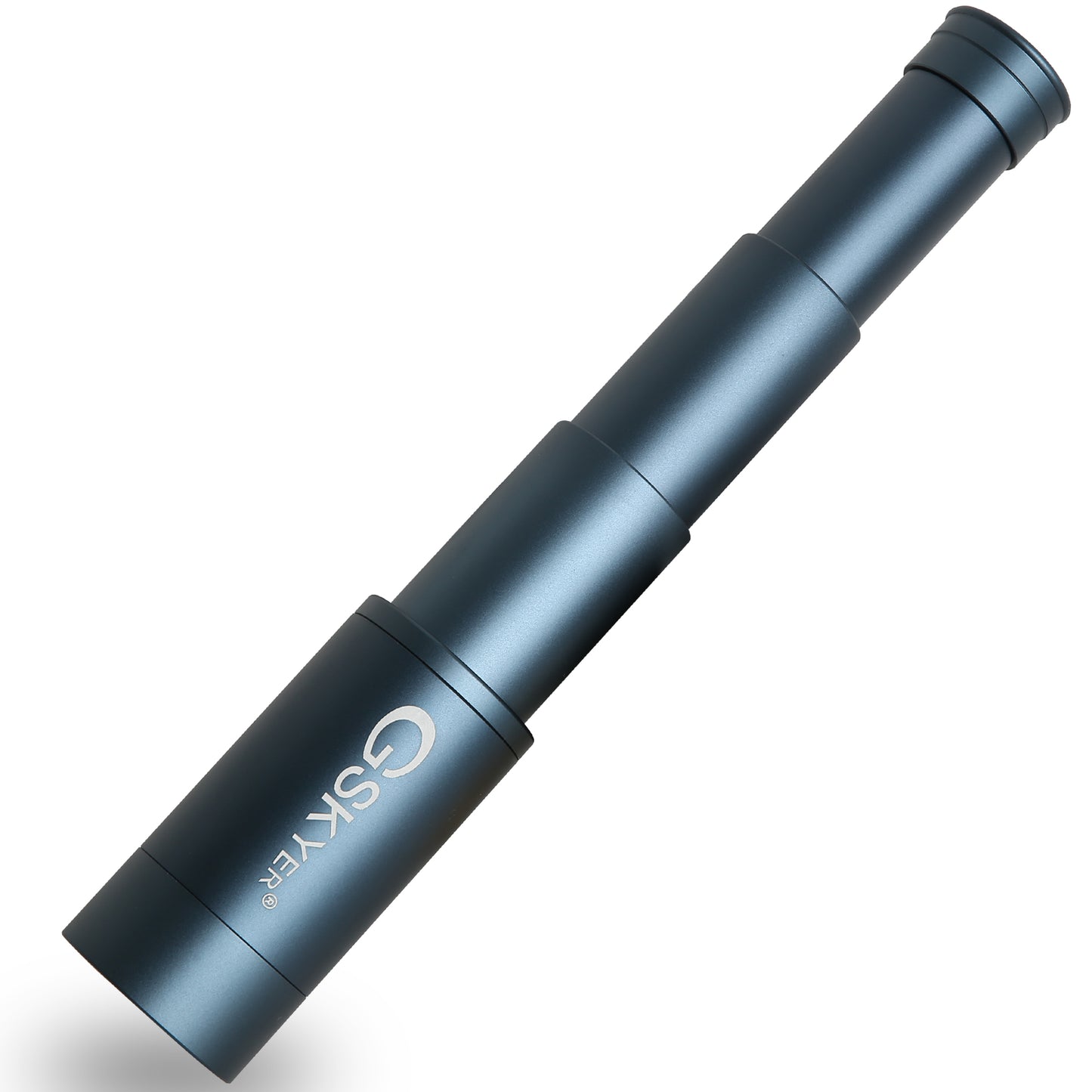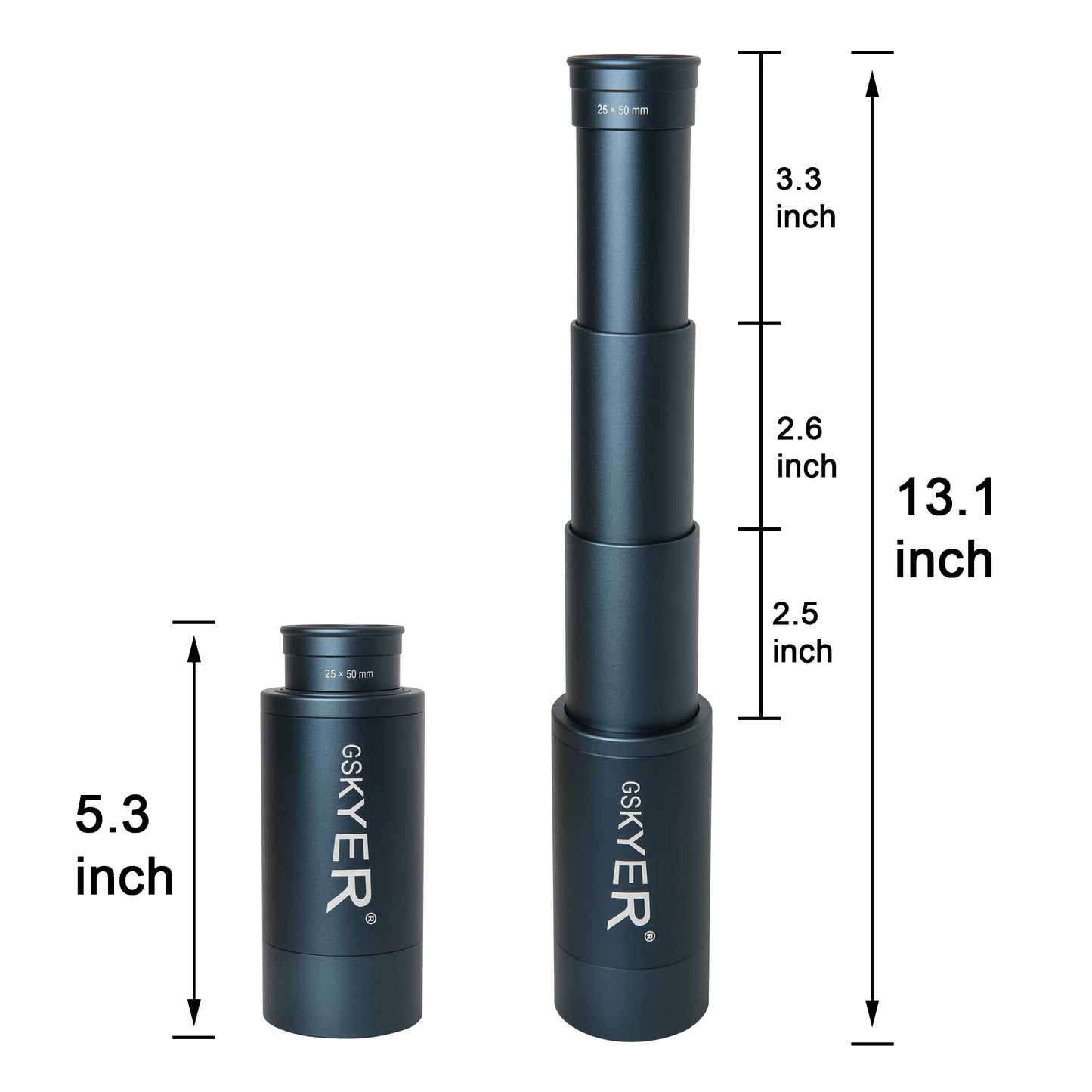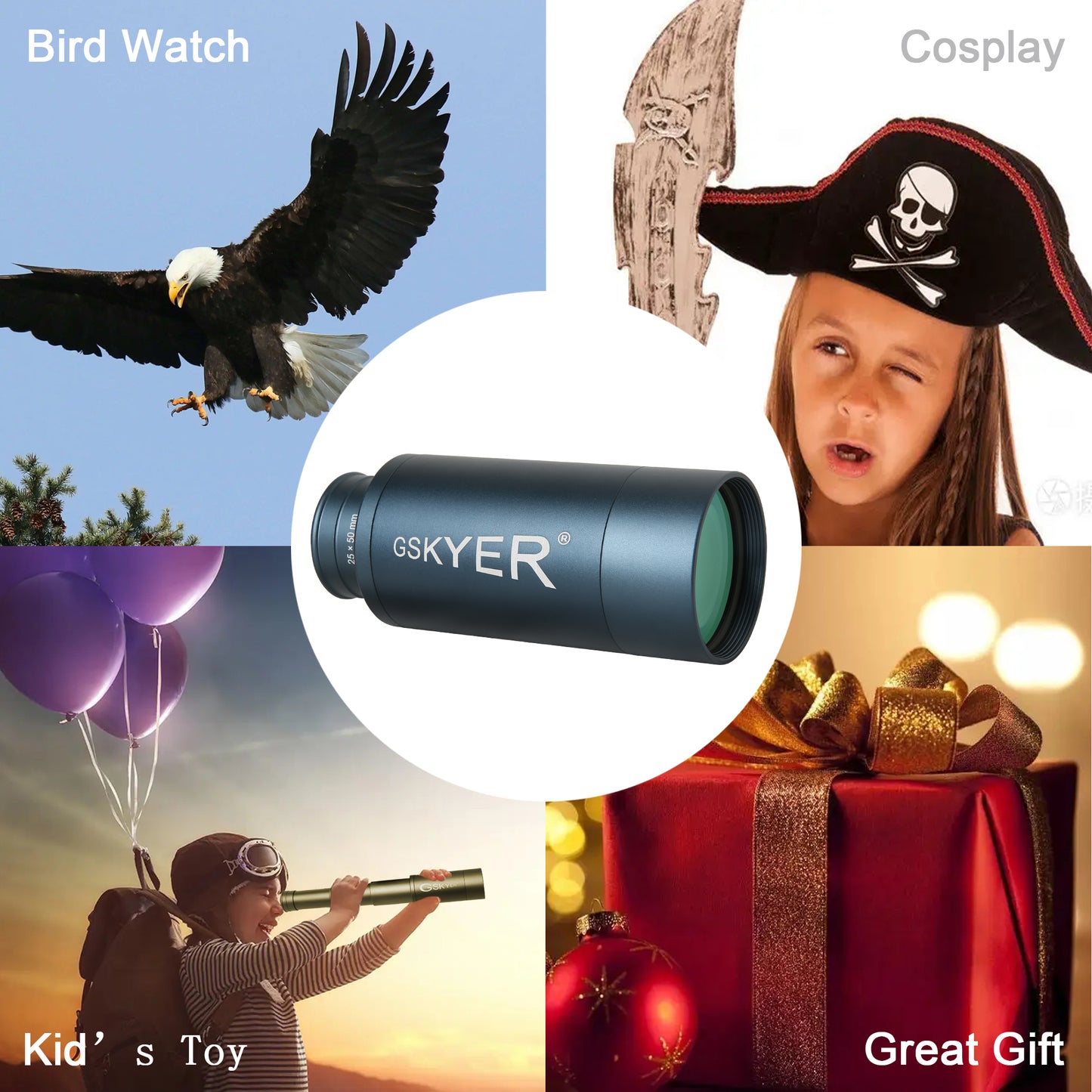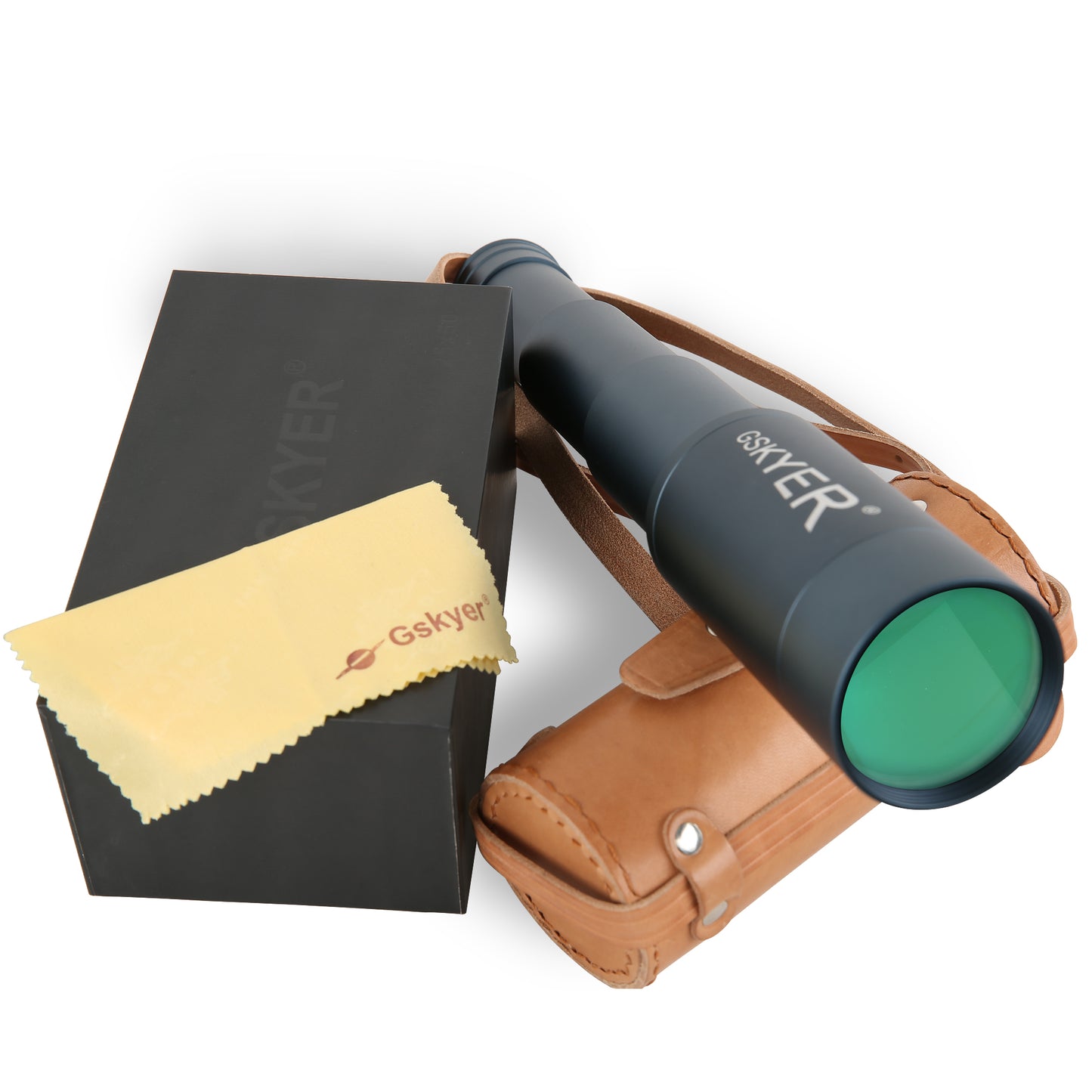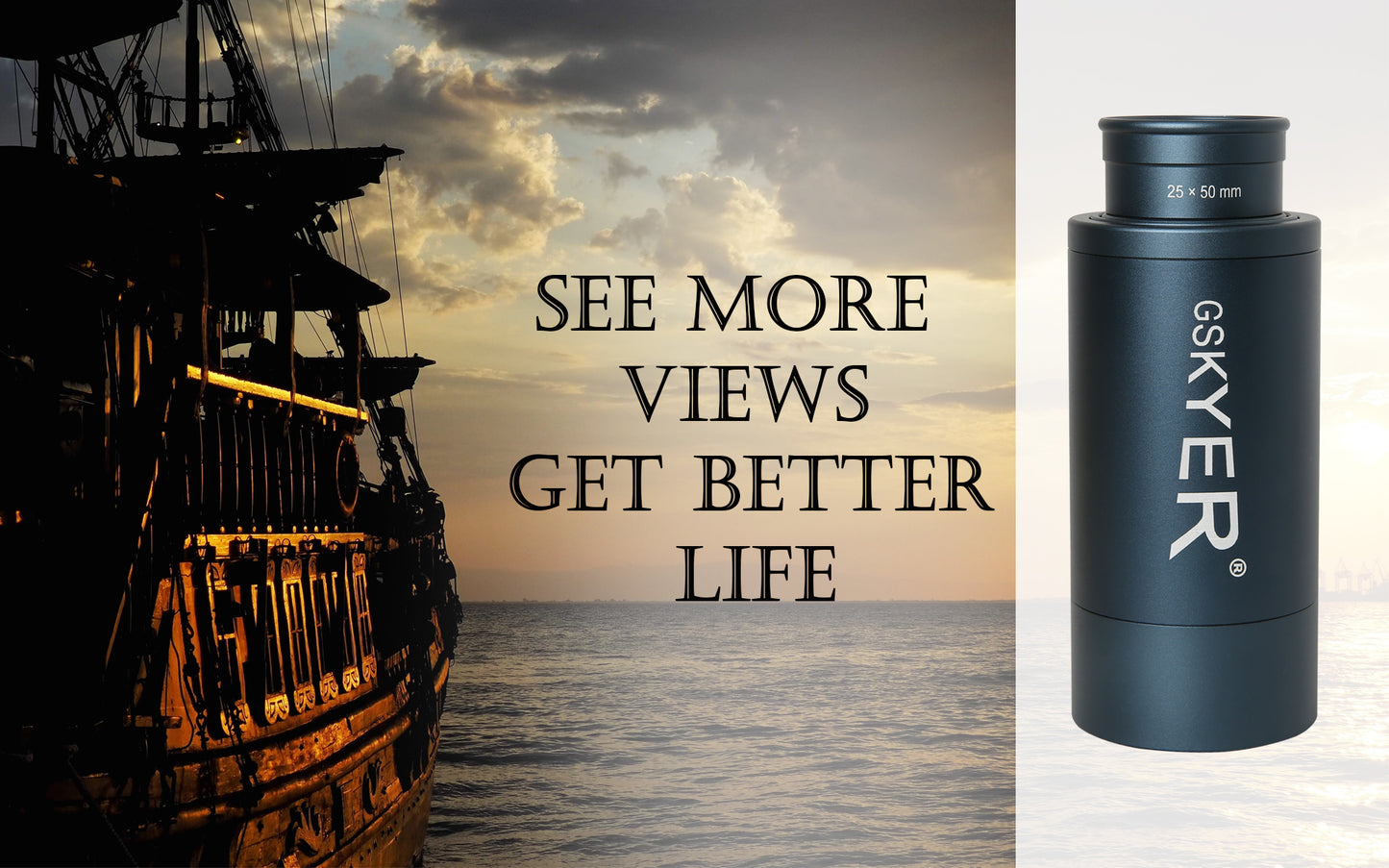 Perfect gift for all of your pirate friends
This is a really cool and high quality telescope that comes nicely packaged and with a very convenient leather carrying case. The finish on the telescope is a nice looking matte metal and the feel of it (when expanding or collapsing) is quite solid. No looseness in the sections or anything rattling around inside.
My only complaints are that it can sometimes be a little finicky when focusing, since you need to slide it in and out to focus (instead of spinning a dial or section) and it can be tough to hold really still since you have to hold the end up a foot or two from your face. But this is really more of the fact that it is a telescope versus a pair of binoculars versus anything wrong with this product.
This isn't a cheap kids' toy, but really a real telescope and the price reflects the quality. Definitely a good value, just be sure you aren't expecting the same use as a set of binoculars. And any pirates you know will absolutely love it.
Very cool
This is a very well made and beautifully crafted telescope and leather case. The telescope is made of great quality materials and has a substantial weight to it. You need a lot of patience to focus the scope, but it does work well. I think this is an awesome product that looks great, too!
Nice, but compare to binoculars.
This is a very nice spyglass that comes in a great leather case that you can wear around your neck. It's a real optical tool, not merely a pirate cosplay prop. It does take some adjustment to get the focus right. And even more time if you normally wear glasses. The magnification is better than what you can likely get from binoculars at this price point. But the drawback with using this sort of spyglass over a set of binoculars is that that the spyglass is longer and therefore exerts more leverage over you. If you can't brace it on a branch or trekking pole, your arm will shake a bit, making it hard to hold particularly steady for very long.
does the job
I just got my hands on this awesome spyglass and it's everything I was hoping for. The telescope itself is made of high-quality materials and has a nice weight to it, giving it a really solid feel. The matte metal finish looks great and the fact that it comes with a leather carrying case makes it easy to take with me on any outdoor adventure.
It does take a little practice to get the focus right, but once you get the hang of it, the glass is crystal clear and the magnification is amazing, better than what you can get from most binoculars at this price point. However, I do have to admit that using a spyglass does require some patience and a steady hand since it is longer and therefore exerts more leverage over you. But if you can brace it on a branch or trekking pole, it's not a problem.
Overall, I think this is a really cool and high-quality spyglass that is well worth the price. If you're looking for something that's not just a toy but a real optical tool, this is definitely the one for you. And if you have any pirate enthusiasts in your life, they'll absolutely love it!
Collapsible content
SPECIFICATION

Objective Lens Diameter: 50 months
Focus Type: Manual Focus
Finderscope: Reflex
Lens Coating Description: Fully Multi-Coated
ABOUT ITEM

【High Power & Comfortable 】 25x magnification and 50mm large objectives lens, the best magnification for distance watching, which provides a more comfortable functionality and larger view. It provides large field of view (352ft/1,000Yds), extending your adventures to greater possibilities. The design of the monocular allows the wearer to get close to the eyepiece without interfering with the viewing experience and feel more comfortable.Both adults and children can use it.
【FMC Lens & BAK-4 Prism】 Using FMC Superior BAK4 green film prism and high quality precision design. The HD monocular telescope uses advanced BAK-4 optics prism and fully multi coated lens. The transmittance of the monocular lens is increased, improve the light transmission rate and resolution, giving the clear, crisp images.
【Premium Leather Bag & Ease for Carrying】 The handheld mini telescope is in a premium leather cylinder bag, it is a telescopic designed for outdoor enthusiasts and easy to carry, allowing you to take the pirate telescope with you anywhere you go.
【Ideal For Outdoor Enthusiasts】 Monocular specially designed for outdoor enthusiasts, durable & waterproof. It is suitable for a variety of outdoor sports: bird watching, hunting, hiking trips, observing animals, camping, travelling, water sports, ball games, watching scenery, concert, outdoor exploration and other activities. Give you an amazing visual experience!
【Perfect Gift For Lovers And Kids】This handheld telescope is a unique gifting option for kids on occasions like birthday, Thanksgiving, Christmas, friendship's day, Easter, engagements, weddings, anniversaries and more, it comes with a real premium leather bag, be a incredible collection and never missing any important or beautiful scenes.
WARM TIPS

●If it shows a blurred
picture, please adjust focus using focus wheel.

●When observing an outdoor
target with an astronomical telescope indoors, do not close the window to avoid
the deformation of the image caused by the reflection of the window glass.

●Use a telescope outdoors,
please wait for the temperature of the product is the same as the outdoor
temperature, the performance will be better.

●Avoid accidentally taking the
telescope into a larger temperature difference environment because the moisture
in the air will condense on the objective.

●NEVER aim your telescope at
the sun or even close to the sun!
SHIPPING

Delivery time: 1-3 days in the US

Return policy: Eligible for Return, Refund or Replacement within 30 days of receipt